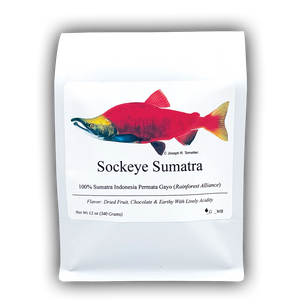 100% Sumatra Permata Gayo
12oz Medium Dark Roasted, full body with a concentrated flavor, garnished with herbal nuances and a spicy finish. The flavor is earthy with hints of sweet plums and dried fruits.
Pairs well with Alaskan scenery, fly fishing, salmon, trout, wild game, camping, hiking, friends and adventure.

Up to $3 from each bag of Sockeye Sumatra will go to Trout Unlimited's Save Bristol Bay campaign. Click here to learn more about what you can do to help Stop Pebble Mine and Save Bristol Bay, Alaska!